An introduction to Spark through demonstration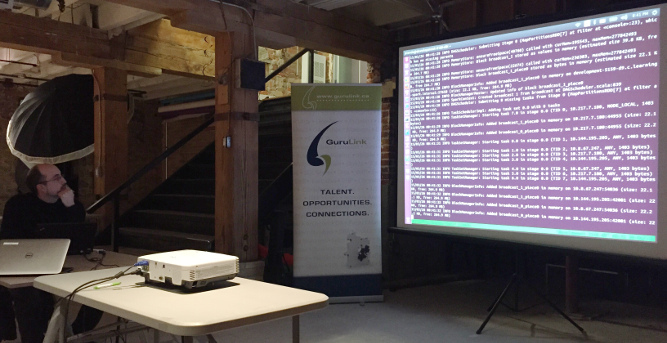 I recently did a presentation at the Toronto Scala & Typesafe User Group on Apache Spark called "Spark in Action".   The presentation served as an excellent excuse to learn more about Apache Spark as well as the greater Hadoop ecosystem of technologies.
The Spark driver application I created runs two jobs over the StackExchange StackOverflow.com Posts dataset: "Top Co-Occuring Tags of Scala Questions" and "Scala Questions asked month over month".  Check out the output of both jobs below.
I published the presentation and a guide on running the StackAnalysis driver application to the learning-spark repository on GitHub.  Check it out if you're interested in running the examples yourselves on your local filesystem or on your own Apache Mesos development cluster (for free!)
Use arrow keys for navigation.  Type 'p' for presenter notes.  Direct link.
Sean Glover (@randonom) talking about Spark in Action at the #TorontoScala meetup pic.twitter.com/ujDSNgZhEQ

— BoldRadius Solutions (@BoldRadius) March 26, 2015
StackAnalysis output
Scala Questions asked month over month
1
2
3
4
5
6
7
8
9
10
11
12
13
14
15
16
17
18
19
20
21
22
23
24
25
26
27
28
29
30
31
32
33
34
35
36
37
38
39
40
41
42
43
44
45
46
47
48
49
50
51
52
53
54
55
56
57
58
59
60
61
62
63
64
65
66
67
68
69
70
71
72
73
74


$ 

cat 

data/output/ScalaQuestionsByMonth.txt/

*




(

2008-09,6

)




(

2008-10,8

)




(

2008-11,5

)




(

2008-12,3

)




(

2009-01,12

)




(

2009-02,12

)




(

2009-03,17

)




(

2009-04,27

)




(

2009-05,12

)




(

2009-06,64

)




(

2009-07,59

)




(

2009-08,71

)




(

2009-09,67

)




(

2009-10,101

)




(

2009-11,95

)




(

2009-12,84

)




(

2010-01,105

)




(

2010-02,115

)




(

2010-03,115

)




(

2010-04,163

)




(

2010-05,169

)




(

2010-06,176

)




(

2010-07,185

)




(

2010-08,170

)




(

2010-09,232

)




(

2010-10,218

)




(

2010-11,212

)




(

2010-12,228

)




(

2011-01,254

)




(

2011-02,274

)




(

2011-03,301

)




(

2011-04,275

)




(

2011-05,329

)




(

2011-06,336

)




(

2011-07,427

)




(

2011-08,436

)




(

2011-09,421

)




(

2011-10,470

)




(

2011-11,458

)




(

2011-12,376

)




(

2012-01,361

)




(

2012-02,393

)




(

2012-03,463

)




(

2012-04,405

)




(

2012-05,424

)




(

2012-06,446

)




(

2012-07,490

)




(

2012-08,464

)




(

2012-09,535

)




(

2012-10,540

)




(

2012-11,554

)




(

2012-12,482

)




(

2013-01,579

)




(

2013-02,594

)




(

2013-03,671

)




(

2013-04,690

)




(

2013-05,661

)




(

2013-06,693

)




(

2013-07,706

)




(

2013-08,691

)




(

2013-09,796

)




(

2013-10,872

)




(

2013-11,873

)




(

2013-12,842

)




(

2014-01,794

)




(

2014-02,880

)




(

2014-03,986

)




(

2014-04,973

)




(

2014-05,883

)




(

2014-06,975

)




(

2014-07,950

)




(

2014-08,922

)




(

2014-09,398

)



Top Co-Occuring Tags of Scala Questions
1
2
3
4
5
6
7
8
9
10
11
12
13
14
15
16
17
18
19
20
21
22
23
24
25
26
27
28
29
30
31
32
33
34
35
36
37
38
39
40
41
42
43
44
45
46
47
48
49
50
51
52
53
54
55
56
57
58
59
60
61
62
63
64
65
66
67
68
69
70
71
72
73
74
75
76
77
78
79
80
81
82
83
84
85
86
87
88
89
90
91
92
93
94
95
96
97
98
99
100
101


$ 

cat 

data/output/ScalaTagCount.txt/

*

 | 

head

 

-n

 100


(

2687,java

)




(

2205,playframework

)




(

1972,sbt

)




(

1846,playframework-2.0

)




(

1309,akka

)




(

884,lift

)




(

851,functional-programming

)




(

669,types

)




(

665,actor

)




(

650,scala-collections

)




(

639,json

)




(

544,intellij-idea

)




(

532,slick

)




(

530,generics

)




(

462,eclipse

)




(

453,pattern-matching

)




(

437,scala-2.10

)




(

418,reflection

)




(

376,playframework-2.1

)




(

374,mongodb

)




(

367,playframework-2.2

)




(

362,list

)




(

360,scalaz

)




(

346,scala-2.8

)




(

336,collections

)




(

318,xml

)




(

318,map

)




(

318,implicit

)




(

297,future

)




(

290,scalatest

)




(

263,maven

)




(

261,parsing

)




(

255,spray

)




(

250,apache-spark

)




(

240,implicit-conversion

)




(

237,android

)




(

236,concurrency

)




(

223,regex

)




(

220,case-class

)




(

218,scala-macros

)




(

214,specs2

)




(

198,jvm

)




(

191,arrays

)




(

191,performance

)




(

188,haskell

)




(

186,inheritance

)




(

182,swing

)




(

170,type-inference

)




(

170,scala-java-interop

)




(

168,unit-testing

)




(

168,scala-ide

)




(

167,traits

)




(

167,recursion

)




(

166,macros

)




(

166,trait

)




(

165,shapeless

)




(

165,function

)




(

164,anorm

)




(

159,immutability

)




(

158,multithreading

)




(

158,monads

)




(

157,casbah

)




(

157,parser-combinators

)




(

151,scalatra

)




(

151,string

)




(

143,constructor

)




(

143,testing

)




(

143,tuples

)




(

142,serialization

)




(

141,syntax

)




(

134,class

)




(

129,javascript

)




(

124,read-eval-print-loop

)




(

121,parallel-processing

)




(

121,squeryl

)




(

115,spring

)




(

114,algorithm

)




(

112,mysql

)




(

107,compiler

)




(

105,typeclass

)




(

103,hadoop

)




(

103,stream

)




(

100,lazy-evaluation

)




(

99,type-erasure

)




(

98,reactivemongo

)




(

98,clojure

)




(

97,forms

)




(

97,database

)




(

96,scala-2.9

)




(

96,templates

)




(

95,for-comprehension

)




(

94,oop

)




(

93,iterator

)




(

93,asynchronous

)




(

92,rest

)




(

91,sql

)




(

91,python

)




(

90,type-parameter

)




(

90,dsl

)




(

90,postgresql

)